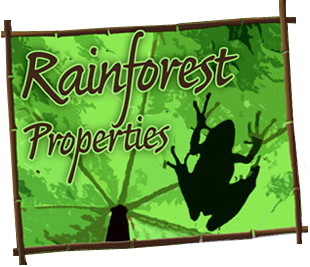 Rainforest and Remote Land Costa Rica

Rainforest conservation is an important part of the lifestyle and culture in this part of Costa Rica, whether for research of the flora and fauna or in the buying and selling real estate properties.

Private individuals also play an important part in the conservation effort and there are numerous private wildlife refuges, reforestation projects, and nature preserves available for sale.

The rainforests of the South Zone of Costa Rica are protected and studied by some of the most highly regarded institutions in the world. Here you will find the Las Cruces Biological Research Station for the Organization of Tropical Studies, the Wilson Botanical Gardens, and National Parks.

If you are looking for a better value for your dollar, then let's go away from the beaches, up into the farmland. Here we will find those waterfalls with the swimming holes and crystal clear springs (no bottled water in plastic jugs here!)

A secluded hideaway, a few acres of undisturbed Jungle or hundred to thousands of Acres for Preservation, reforestation projects, or wildlife refuges: whatever you are looking for, we can help you find it. We have land, farms and acreage tracts for sale in Southern Costa Rica.

I have many LOCAL TICO CONTACTS and my list grows daily for this type of remote property.

If lowlands with their hot and muggy climate, are not for you then contact me, I have many listings for mountain properties !

In the mountains, It is cooler, your garden will flourish here, the townsfolk are gentle, and many properties are accessible by a good road.

Dollar value of land and acreage for sale in the rural mountains of Costa Rica is incomparable to what you'll find near popular towns or beaches, yet with a short drive of an hour or so and you'll be soaking up rays at the beach!

The beauty is incomparable.

I've walked footpaths, more than an hour off the last 4 wheel drive trail, and have come upon an old-timer living as he has his whole life, oblivious to daily strife as he pulls fruit off the tree or stokes up the wood fire to brew another cup of Costa Rican coffee for his rare visitor.

Yes, it is off the beaten path. Remote and secluded land for sale, often with nearby utilities and the services of the small villages of Costa Rica. Large and small farms, fincas, and acreage tracts are available.