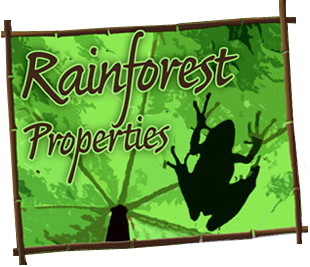 A Tour of the City of Golfito
by Dave Corella © 2009, all rights reserved

Some of the local neighborhoods of Golfito have names like Barrio Ureña, Barrio San Juan and Barrio Llano Bonito. These three surround the area of the Deposito Libre (free port) and are your basic tico neighborhoods. The houses are typical tico style with 2-3 bedrooms. They are usually one story and built of concrete with a zinc roof. Yards are small and houses are fairly close together. Pulperias (corner stores) can be found everywhere and the Golfito Costa Rica local high school and police station are located behind the free port as well.

Golfito Costa Rica Real Estate

Barrio Alamedas (Zona Americana) was home for the white-collar workers dating back to the Banana Company days in the late 30's and early 40's. This is the preferred Golfito real estate neighborhood, with houses built to American standards; the houses are two story wooden, typical of the Banana Company and built with the tropics in mind.

The lumber that was used was treated for termites (and it really works). All ceilings are 10' and most living areas were situated on the second floor. They are quite classic in design, with large yards graced with tropical plants of every kind.

Built at the height of the Banana Company's Era with a pool in the center of the neighborhood, tennis courts were a popular attraction, as well as the 18 hole par 3 golf course (9 holes, 18 tees) surrounding the airstrip

Today, if you could locate a home in this area, you can expect to pay no less than $250,000 and repairs will be needed. A current renaissance is taking place, and a new hotel has recently opened in the center of this lovely neighborhood. The old pool from the banana company has been replaced and a complete health care center, a new pool and Tennis/Squash courts are under construction compliments of Casa Roland Marina Resort.

Towards the rear of this neighborhood, you will discover our Golfito airport, which is majestic, one of the only commercial airports where you'd swear the airplanes' wings could touch the jungle on either side when landing. We have 4 daily flights from San Jose.

Golfito Properties Costa Rica

Heading Southeast towards the center of Golfito Costa Rica, we pass the hospital, also built by the Banana Company.

It too has the original style of the local construction. A new Emergency Ward and operating room were recently completed, as well as a waiting room, and doctors offices.

Continuing on, we pass the Catholic Church, then the Rainforest Properties office on the second floor, and continuing to the modern (mirrored glass) bank Banco Nacional on the left followed by our lighted Soccer Field, and the surrounding homes and properties of Barrio Bella Vista, or Beautiful View.

The entrance to the Banana Company's Pier is located here, and several years ago a train ran parallel with the main road through the center of town and along the waters edge. This entire complex included tool and die machines, metal and wood shops, and the only overhead crane in Central America that could move an entire Steam Engine, and it was quite something to see. The entire area has been torn down with new development of the 200 million dollar Mega Marina.

I could write a whole page on the history of the Banana Company and the town at that time. The history of Golfito Costa Rica is very rich and full.


Heading once again along the waters edge, we pass Tracopa, the main bus station, and a deserted strip of highway where the jungle covered mountain drops directly to the road's edge and on the other side, Golfito Bay.

A new proposal for a boardwalk in this stretch will be an outstanding addition.

We then come to the center of town, the first neighborhood being Barrio El Uno (kilometer uno). This part of town, known as Pueblo Civil was home for the blue collared worker and the homes were divided in two like a duplex. Hundreds of workers and their families lived here. This neighborhood is a little rough around the edges, a bit run down and crowded, but you will find an updated home here and there and a good bargain as well for Golfito Costa Rica real estate properties.

Real Estate Golfito Costa Rica

The public pier is located in the area of El Uno and here smaller crafts tie up as well as fish and shrimp boats.

The ferryboat from Puerto Jimenez arrives and leaves daily from here at 11:30 am. There are also new faster ferry boats leaving more frequently.

Public Transport by boat to Zancudo leaves from the restaurant Samoa departs at noon Mondays, Wednesdays and Fridays.

Golfito Costa Rica has one gas station located in the center of town. Various restaurants, and many cantina-style bars, may also be found.

Golfito has its Post Office and Municipality Building in this area, and most of the shopping for vegetables, fruits, meats and staples can be done here. There are several modern hardware stores where you can find most everything needed for construction purposes.

Heading further south, the waterway is lined with fishing boats and small businesses, a couple of upscale marinas, Banana Bay and Fish Hook Marina, that are home to fishing charters and Cruisers. Evening dining or bayside hotel rooms may also be found here.

Costa Rica Real Estate Golfito

Further south at the end of the bay lies the popular Hotel Las Gaviotas with pool and a restaurant. Then the road turns, heading out of town towards other residential neighborhoods and away from the waterfront area of Golfito real estate Costa Rica.

Neighborhoods like Purruja, and La Mona lie outside of town about 7-8 kilometers. 20 kilometers further you will run into the Pan-American highway that heads south to Panama (45 min) or North to San Jose (6-7 hrs).

Copyright © 2004-2009 all rights reserved. Any and all content in this website is not for distribution and not for publication. Unauthorized reproduction of the images and content in this website without express written consent is strictly forbidden.